Here are some awesome people you can look up and listen to so you can become a low brass boss, too!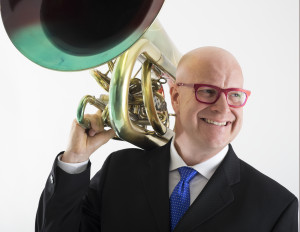 Tubist Patrick Sheridan has been enthusiastically received as a solo artist around the world. He made his solo debut playing an arrangement of The Blue Bells of Scotland accompanied by his mom, Diana, when he was just 10 years old, only months after he had started playing his chosen instrument, the tuba! He made his solo orchestral debut at the age of 15 playing a Mozart Horn Concerto on the tuba. Since then, Patrick has rocketed to success as a solo performer in venues ranging from the White House to an NBA half-time show.
As a former member of "The President's Own" United States Marine Band, he thrilled audiences across the United States with his amazing virtuosity and musicianship as one of the band's primary soloists. He is equally at home with standard classical repertoire and as an entertainer in the "pops" realm. In addition to his musical studies with legendary tuba artists Arnold Jacobs, Daniel Perantoni, Harvey Phillips and Jim Self, Sheridan holds a Master of Business Administration degree with an emphasis in finance and marketing from the University of Michigan.  He is a frequent guest at the American Band College of Sam Houston State University.
Check out Pat Sheridan playing Flight of the Tuba Bee!
---
Award-winning Achilles Liarmakopoulos is the trombonist of the legendary Canadian Brass. He holds degrees from the Yale University School of Music, Curtis Institute of Music, San Francisco Conservatory and the Philippos Nakas Conservatory in his hometown of Athens, Greece.
Achilles has toured extensively throughout North America, Europe and Asia, performing and educating in the world's most important venues and institutions. Upon completion of his studies, he won the position of principal trombone of the Greek Radio Symphony Orchestra. Achilles has also performed with the Malaysian Philharmonic, Jacksonville Symphony and European Union Youth Orchestra, among many others. As a recitalist, Achilles has performed in China, Spain, France, the Netherlands, Austria, Finland, Greece and the US, having been awarded honors at competitions around the globe.
Watch Achilles perform The Saints Go Marching In with the Canadian Brass!
---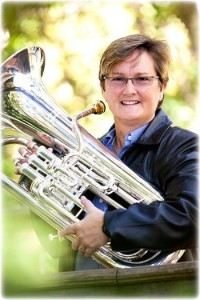 Gail Robertson earned her B.A. degree from the University of Central Florida and a M.M. in Euphonium Performance from Indiana University while serving as graduate assistant to Harvey Phillips. She postponed her doctoral studies at the University of Maryland with Dr. Brian Bowman to perform with the "Tubafours" at Walt Disney World, Orlando where she served as musical supervisor/chief arranger and produced a highly acclaimed CD, "Tubas Under the Boardwalk." She has recently completed her D.M.A. as a University Distinguished Fellow at Michigan State University studying with Phil Sinder, Ava Ordman, and Ricardo Lorenz. She has taught on the faculties of Eastern Michigan University, the University of Central Florida, Bethune-Cookman University, the University of Florida, Valencia, and Seminole Community Colleges, and remains active as a teacher, adjudicator, composer, arranger and free-lance artist, both nationally and internationally.
Watch Gail Robertson perform with Stacy Baker on Symbiosis Duo!
---